Hydraulic power packs
Our main production specialisation si assembling eather serial or custom made hydraulic power packs. We pay a great attention in designing process of each application to assure fulfilling customers needs and expectations.
Our main advantages are as followed:
- short delivery times (2-4 weeks for custom made power packs), 3-5 days for most of the mini power packs,
- low price due to using a low cost, highly modular products from the best known producers (VICKERS, REXROTH, ARGO-HYTOS etc.),
- top quailty systems, we use the best quality products.
We did create a thousands of the hydraulic systems so far …. let us create yours too.
Hydraulic power packs

+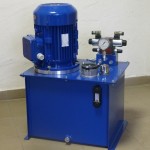 We assamble hydraulic power packs as:
a serial production (for OEM producers), our main advantage is low costs, short lead time and used high quality products,
a custom made hydraulic power packs designed and produced to meet customers requirements and expectations.
We are able to achieve flexibility, short delivery terms and low costs of our power packs thanks to using a highly effective system of modular components produced by the worlds best producers VICKERS, ARGO-HYTOS, REXROTH etc.
TECHNICAL PARAMETERS OF HYDRAULIC POWER PACKS:
Flow:             1- 200 lit/min.
Max. pressure:      350 bar
El. motor:  0,25 - 37 kW
Oil tank: welded, volume 20 - 1000 liter
Directional valves: manual, electrical (230VAC, 110 VAC, 12VDC, 24VDC), hydraulic, pneumatic, pneumatické, hydraulické.
Mini Power-Packs

+
A compact hydraulic mini-power packs:
Modular execution of these hydraulic systems provides to the customer the best rate  quality/price on the market.
Possible lead time 3-5 working days.
Possibility of several electric executions: 380VAC, 230VAC, 24VDC, 12VDC.
TECHNICAL PARAMETERS
Flow rate:             1- 20 lit/min.
Max. pressure:         do 200 bar
El. motor:  0,25 - 4 kW
Oil tank volume: 1,5 - 40 liter (steel or plastic).